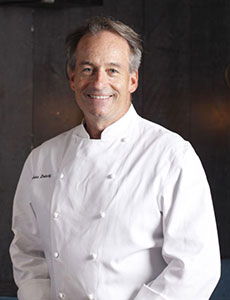 1 – Q) Kindly give our readers an introduction to your business. Please include what your business is all about, in which city you are located and if you have offices in multiple locations/ cities.
A) Tom Struzzieri and I were childhood friends and took separate career paths after high school. 30 years later with seasoned experience in the culinary and equestrian fields respectively, they set out to open a restaurant that combined their passions and expertise in the city they love most.
After I spent a weekend at friend and acclaimed designer Mark Zeff's BLACKBARN home in the Hamptons, the anchor of Mark's eponymous design brand, I found that the aesthetic matched the spirit of the restaurant vision. As co-owners, Tom and I are in collaboration with the multi-layered BLACKBARN brand, present BLACKBARN Restaurant to New York City, where seasonal, rustic fare meets a modern farmhouse atmosphere.
2 – Q) Kindly give us a brief description about yourself (it should include your brief educational or entrepreneurial background and list some of your major achievements).
A) I am a Chef by trade. I received my education at the Culinary Institute of America and went on to work at New York's Waldorf Astoria Hotel as a cook but worked my way up to becoming the Executive Chef at the age of 27 years old. I held that position for 23 years during which time, I was honored to cook for and meet several United States Presidents and high-level dignitaries. The Waldorf is a massive operation consisting of three restaurants, 24-hour room service for 1,400 guest rooms, an employee cafeteria that feeds 700 people a day, and up to 25 events per day ranging from 10-3,000 people. It is at the Waldorf that I learned how to manage people, processes, and business economics. After 30 years at the Waldorf, I opened BLACKBARN Restaurant in the NoMad district of Manhattan which became an instant success.
3 – Q) What inspired you to (start a new business venture) or (to make significant changes in an existing business)? How did the idea for your business come about?
A) Owning my own restaurant was something I always dreamed of, but for many years while at the Waldorf, I lacked the courage to take the risk of possible failure until the time came when I was forced to take a leap of faith.
4 – Q) What three pieces of advice would you give to budding entrepreneurs?
A) Know your business. Expect continual rejection and persevere. If a financial plan doesn't work on paper, it will never work in business. Always be decisive, things change quickly. Be adaptable to new realities. What you don't know, you can learn. If someone else has done it, so can you. Surround yourself with people who care and can deliver.
5 – Q) What would you say are the top three skills needed to be a successful entrepreneur?
A) Effective Leadership Skills, Operations & Financial Competence, Decisiveness.
6 – Q) How many hours do you work a day on average?
A) 8-10 hours at work, but work from home is continual.
7 – Q) To what do you most attribute your success?
A) Respect for others, passion for what I do, good organizational skills and perseverance.
8 – Q) How do you go about marketing your business? What has been your most successful form of marketing?
A) Independent restaurants rarely have a budget for effective advertising so we rely strongly on word of mouth, Social Media, PR, some magazine bartering.
9 – Q) Where did your organization's funding/capital come from and how did you go about getting it? How did you obtain investors for your venture?
A) Creating a realistic and compelling business plan, establishing credibility, understanding that people are investing in YOU, not the business so much and networking. For BLACKBARN, I spoke and presented my plan to many people over the years with no commitments. After having exhausted my list of high net worth people, I asked my life long friend Tom Struzzieri who is also a high net worth individual, if he could introduce me to anyone he knew who might be interested. Tom looked at my plan and offered to finance the project by himself with a few conditions that were reasonable and in the end, very wise.
10 – Q) What is the best way to achieve long-term success?
A) Create and share a vision for where you want the company to be in the future when it has met its full potential. Put a team in place that can share that vision and execute tasks that will get you into the end zone. Setting new annual goals and adjusting them quarterly is essential for continued growth of the business. The goals need to be aggressive, measurable and realistic, and used as the focus in weekly management meetings. Taking swift action on financial matters that are less than positive. Create a culture of teamwork, respect for others and accountability at all levels of the organization.
11 – Q) Where do you see yourself and your business in 5-10 years?
A) With the pandemic closing the restaurant down for some time, we're excited to start hosting private events and experiences like our Chef's Table, Souffle Making Class, World Leader Menu, Special Tastings, Tours, and Meet and Greets.
With the Heavenly HARVST Foundation and HARVST Foods, we're aiming to have an international presence supplying disaster relief, refugee and hunger organizations with nutritious meals and saving lives.
12 – Q) Excluding yours, what company or business do you admire the most?
A) I am astonished by the creativity and effectiveness in which Amazon operates. Besides rapid growth by meeting the consumer needs through offering value, convenience and great customer service, they have a social responsibility program that is beyond generous.
13 – Q) How important have good employees been to your success?
A) My business is only as good as the performance of its collective team. Hiring competent, happy people is a great start. Setting crystal clear expectations and behavior boundaries are essential. Creating a culture of equality, hospitality and respect for one another is critical to the success of any business. If my employees are happy because they have the information and tools needed to succeed at their job and are recognized for good results of their work, their joy will be felt by our guests, creating a more memorable dining experience.
14 – Q) How long do you stick with an idea before giving up?
A) It depends on how much I believe in it, what it costs and what the financial return could be.
15 – Q) How do you generate new ideas?
A) I'm a creative person. My nature is to solve problems and fill voids based on what I think people want. "What if" is a great question to ask oneself. Most of my creative thinking is done when I'm relaxed, listening to music, but oftentimes when things go wrong and a quick solution is required, something better comes from it.
16 – Q) How do you define success?
A) I can only define success on a particular subject, not an overall state of being. Everything in life is a work in progress with ups and downs. As I continue to add new goals and accomplish them, there is success. If I'm happy with something, it's a success. I measure my success against what my personal goals and desires are. Someone might view me as a success, but if I haven't achieved my goal, to me, I'm not successful, but that's OK. There is success in achieving happiness but failing at achieving a goal. Deciding if someone else is successful is being judgmental and should be avoided.
17 – Q) How do you build a successful customer base?
A) Word of Mouth. If my employees are happy because they have the information and tools needed to succeed at their job and are recognized for good results of their work, their joy will be felt by our guests, creating a more memorable dining experience.
18 – Q) What is your favorite aspect of being an entrepreneur?
A) Freedom to take immediate action and make changes without a laborious approval process. To know that the buck stops here, I'm in control of my successes and failures.
19 – Q) What has been your most satisfying moment in business?
A) At BLACKBARN, watching customers having fun…lots of fun!
20 – Q) What do you feel is the major difference between entrepreneurs and those who work for someone else?
A) Owning a business is more than being good at what you do. Many people own their jobs with a heightened attitude of ownership but they still get to go home without the risk associated in entrepreneurship.. Having the pressure of knowing the buck stops here and owning total accountability for all aspects of the business including and especially the return on the investment is a heavy load to carry. It's a lot of pressure that many people don't want.
21 – Q) What kind of culture exists in your organization? How did you establish this tone and why did you institute this particular type of culture?
A) I've built a culture of positivity, respect for each other, transparency, integrity and accountability. Focusing on good behavior, good deeds, personal growth and achievement and recognizing this publicly, not only brings pride to the individual being honored, but encourages others to do the same. When people mess up, simply asking for an explanation, what did we learn from this and getting a commitment that it won't happen again usually works. Should the offense repeat itself, disciplinary measures are taken, making sure the individual understands the impact their actions have had on the business. These matters are ALWAYS discussed in private to preserve dignity. Setting crystal clear expectations, training and making sure the required supplies are available help keep the established quality standards consistent leaving less room for deviation of the standards. These are the core factors that create a culture of optimal service driven by a positive attitude toward one's job and workplace.
22 – Q) In one word, characterize your life as an entrepreneur.
A) Leader
23 – Q) If you had the chance to start your career over again, what would you do differently?
A) Nothing, everything happened in order to get me where I am today.
24 – Q) How has being an entrepreneur affected your family life?
A) It's brought me a little more stress at times but also gives me freedom that makes me happy. Career and family balance has always been a challenge and will continue to be. I've always had to be aware that quality would have to outweigh quantity when it comes to my time at home and work in order to be effective in both areas. Trying to live in the moment and being present is the work at hand.
25 – Q) What is your greatest fear, and how do you manage fear?
A) Previously, my biggest fear was failure and how that would impact my family and make me look to others but I've learned that with failure comes growth, and I've learned not to care what people might think. I now have far less fear about everything because I've survived and thrived in many situations. Now, when I'm faced with obstacles, I have a choice to either accept it and embrace it, or change it. Worrying makes no sense at all—it's just a waste of energy.
26 – Q) How did you decide on the location for your business?
A) I didn't, it was available.
27 – Q) Do you believe there is some sort of pattern or formula to becoming a successful entrepreneur?
A) Desire, passion, perseverance, character
28 – Q) If you could talk to one person from history, who would it be and why?
A) Jesus Christ, he has ALL the answers.
29 – Q) What are some of the biggest mistakes you've made?
A) Under communicating to higher-ups and opening a Cafe in Chelsea Market against the advice of my partner.
30 – Q) What makes you happy?
A) Most everything but especially my family, food, wine, music, sunny days in the outdoors, driving.
31 – Q) What sacrifices have you had to make to be a successful entrepreneur?
A) No sacrifices, all choices are made with care and understanding that we don't always get what we want. I suppose in my case I have less time for myself and family but that applies to everyone in the restaurant from the dishwasher to the owner. As for being an entrepreneur, I have mental pressures that I probably wouldn't have if I was an employee-less mental freedom I suppose.