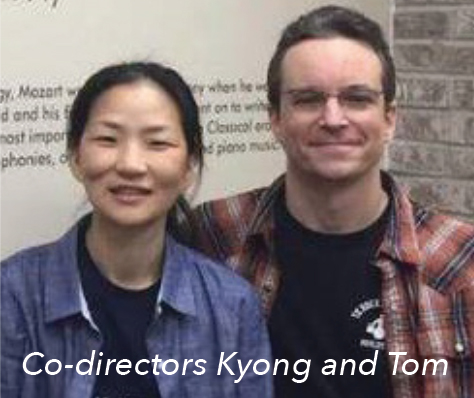 Q 1. Kindly give our readers an introduction to your business. Please include what your business is all about, in which city you are located and if you have offices in multiple locations/ cities.
Ans: Nutley School of Music offers private music lessons and group music programs to children and adults. Quality music education is what our school is all about. Our teachers and staff are committed to provide the best musical experience for everyone in a friendly and professional environment. We are located in Nutley, New Jersey just 30 min west of New York City.
Q 2. Kindly give us a brief description about yourself (it should include your brief educational or entrepreneurial background and list some of your major achievements).
Ans: My name is Kyong. My husband, Tom and I met in college while both pursuing a music performance degree. After college, we decided to open our own music school after many years of teaching at other studios and students' homes. Our school has been going strong for 20 years. We opened our school with literally no business experience other than working for other studios. We started with only 30 students back in 1999. We now have over 500 students.
Q 3. What inspired you to (start a new business venture) or (to make significant changes in an existing business)? How did the idea for your business come about?
Ans: We drove to different towns and people's homes before we opened our business. There were limitations to what we could achieve due to time lost on the road and not having access to materials and equipment. One day, we drove by a 'for rent' sign on a building and went for it. We wanted to increase our income by staying in one place and providing better quality of Lessons.
Q 4. What three pieces of advice would you give to budding entrepreneurs?
Ans: Build a team of expert professionals. Seeking out other business owners who are successful in your field. Keep your dream alive by keeping positive people around you.
Q 5. What would you say are the top three skills needed to be a successful entrepreneur?
Ans: Become an expert in your business. Listen to your customers and employees and find out what they need. Make sure you have quality products.
Q 6. How many hours do you work a day on average?
Ans: On average, I work around 10 hours a day.
Q 7. To what do you most attribute your success?
Ans: We joined a music studio owners' group around 3 years ago. It improved our business dramatically. Staying with the times, the marketing trends and social media has been the key to our success.
Q 8. How do you go about marketing your business? What has been your most successful form of marketing?
Ans: Our website and social media presence have been the most successful form of marketing. We also get many customers from our recently updated signage and through customer referrals.
Q 9. Where did your organizations funding/capital come from and how did you go about getting it? How did you obtain investors for your venture?
Ans: Our start-up cost was covered by our own money and contributions from our family. We took a space that was set up for a doctor's office so there was no build out cost. We did not have to get any investors to get started.
Q 10. What is the best way to achieve long-term success?
Ans: Building lasting relationships with students, parents, and teachers has been a source of our success. We believe the success of our students is the success of our school.
Q 11. Where do you see yourself and your business in 5 – 10 years?
Ans: Looking ahead to the future, we hope to keep growing our current location plus adding a second location. We will take the position of training the teachers rather than doing the lessons ourselves. A system will be set in place to ensure quality.
Q 12. Excluding yours, what company or business do you admire the most?
Ans: Disney is a "make happy" business that we can emulate
Q 13. How important have good employees been to your success?
Ans: Good employees are crucial to our business. Without them, we would not be around. They are the face of our business. We must treat them very well.
Q 14. How long do you stick with an idea before giving up?
Ans: I usually never give up on a good idea. If an idea proves to be impossible or bad, I will give up rather fast. It all depends on what goal I am trying to achieve.
Q 15. What motivates you?
Ans: We love seeing smiles on the faces of our students and their family members. It is rewarding to know that we are making a difference in their lives.
Q 16. What are your ideals?
Ans: Being honest. Respecting others. Being responsible. Being trustworthy. Doing what I said I would do.
Q 17. How do you generate new ideas?
Ans: We stay in touch with our Music Academy Success System group for great ideas. I am always looking for new ideas by talking with young people and searching online to keep our business fresh and fun.
Q 18. How do you define success?
Ans: When our customers and our employees are happy, it is rewarding and we feel successful. We have grown our business from a small studio to a big school with 15 rooms and 25 staff members. Our income has almost doubled over the last 3 years.
Q 19. How do you build a successful customer base?
Ans: We treat everyone with respect and we emphasize customer satisfaction. We are good at resolving issues quickly and making sure everyone is happy.
Q 20. What is your favorite aspect of being an entrepreneur?
Ans: I love being the decision maker. I want to make sure everyone is well taken care of and our business runs smoothly. I will listen to our customers and employees and take action when needed. I really believe in putting the people first and everyone is treated well.
Q 21. What has been your most satisfying moment in business?
Ans: Recently, we reached over 500 students for the first time. In January alone, we added a record -breaking number of 50 students. We have worked hard to get to this point. We are excited to keep the momentum going.
Q 22. What do you feel is the major difference between entrepreneurs and those who work for someone else?
Ans: I feel that we, entrepreneurs, have something inside us that wants more than a person who works for others. We have an unbreakable spirit to succeed on our own. We want to take a chance to do what we want. We embrace the freedom that will not be controlled by fear of failing.
Q 23. What kind of culture exists in your organization? How did you establish this tone and why did you institute this particular type of culture?
Ans: We promote working together in a non-competitive way. We want everyone to feel good about their individual journey while they are at our school and beyond. Everyone is respected and nurtured to reach their individual goals.
Q 24. In one word, characterize your life as an entrepreneur.
Ans: Freedom
Q 25. If you had the chance to start your career over again, what would you do differently?
Ans: I would have opened our school earlier. I would have joined the Music Academy Success System earlier. Seek out expert professionals earlier in the business.
Q 26. How has being an entrepreneur affected your family life?
Ans: We have to focus on our business most of the time but we can adjust our hours when needed. Due to the lack of time, we do have to miss some family gatherings at times. We are able to make more time now than a few years ago as our business is improving.
Q 27. What is your greatest fear, and how do you manage fear?
Ans: Failure would be a fear of mine. Knowing that I can deal with the worst-case scenario is a way to manage my fear of failing. I can start over and do it better with lessons learned by failing.
Q 28. How did you decide on the location for your business?
Ans: We found a great location on a main road with a lot of traffic. It is 8 minutes from our house and 2 blocks from a highway exit. We do have a great location.
Q 29. Do you believe there is some sort of pattern or formula to becoming a successful entrepreneur?
Ans: Ronald Reagan said "America is too great for small dreams". I would like to add setting goals and taking action.
Q 30. If you could talk to one person from history, who would it be and why?
Ans: I would like to talk to Frederic Chopin. He is my favorite composer.
Q 31. Who has been your greatest inspiration?
Ans: Vladimir Horowitz, my favorite pianist, makes me want to practice.
Q 32. What book has inspired you the most? (OR what is your favorite book?)
Ans: Conversations with Horowitz by David Dubal.
Q 33. How can you prevent mistakes or do damage control?
Ans: Sticking to your operation standard, making a checklist, and paying attention to details can prevent mistakes. Set clear policies and keep clear communication with employees and customers frequently. Damage control is my specialty. I make sure I listen to the person with a problem and understand clearly what they need to make it better. I apologize and take quick action to fix the problem.
Q 34. What are your hobbies? What do you do in your non-work time?
Ans: I like to relax with my husband and my cat. We like to enjoy our favorite TV shows on the couch with our feet up.
Q 35. What makes you happy?
Ans: God has truly blessed me with a wonderful husband and family who love me unconditionally. Seeing my loved ones healthy and happy is my happiness.
Q 36. What sacrifices have you had to make to be a successful entrepreneur?
Ans: The lack of time to spend with family is the biggest sacrifice. Having to put all the money back in to the business when we desperately needed the money for home improvement projects is another. We do whatever it takes.
Q 37. If you were conducting this interview, what question would you ask?
Ans: What advise would you have for young entrepreneurs regarding time management?
Company Detail:
Company : Nutley School of Music
Contact : Kyong Lee
Address : 213 Darling Ave
City : Nutley
State : NJ
Zip : 07110
Phone : 973-667-7155
Email : info@nutleyschoolofmusic.com