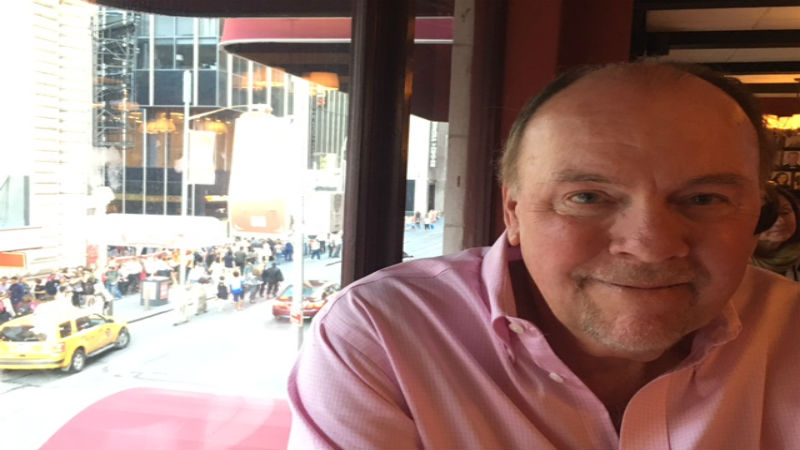 Q – Kindly give our readers an introduction to your business. Please include what your business is all about, in which city you are located and if you have offices in multiple locations/ cities.
David Koyle:
I founded Omni Medical Services in 2011 to help patients manage their pain with medical cannabis instead of traditional medicines. Omni is headquartered in Waterford, Michigan and has helped over 30,000 patients receive their medical cannabis cards in our 7 years of operation. we now operate 25 offices in five states including Michigan, Ohio, Illinois, Pennsylvania and Florida.
Q – Kindly give us a brief description about yourself (it should include your brief educational or entrepreneurial background and list some of your major achievements).
David Koyle:
I graduated from the University of Miami in coral gables Florida with a degree in Mass Communications. The early part of my professional career was spent directing and producing television programming in Toronto, Canada. I moved to Los Angeles where I produced several feature films and learned to manage multi-million dollar budgets, TV and film crews and personnel. I later diversified into entrepreneurial ventures and changed the pop culture with the launch of 3d-tv and sold 200 million pairs of 3dtv glasses in 1982-83. I served as Global Marketing Director at Eastman Kodak and brought digital sound to the movies in 1990 by licensing numerous major motion pictures like Dick Tracy, Terminator 2, The Doors and Edward Scissorhands. This achievement allowed me the opportunity to travel the globe and license movie studios and exhibitors to use the cinema digital sound system: the world's first digital sound on film process. This technology changed the global culture and now all theaters use digital sound. I have also licensed new technologies to fortune 50 companies including DOW chemical and have extensive experience in advance wind turbine technology and design. I have raised over $18m in venture capital during my career and received numerous awards.
Q – What inspired you to (start a new business venture) or (to make significant changes in an existing business)? How did the idea for your business come about?
David Koyle:
After I injured my shoulder I decided to try alternative medical treatment for my pain. I attended a medical marijuana doctor to get my certification and the process was lengthy and confusing. During the process of getting my medical marijuana card, I had the idea of making certifications simple. I partnered with a friend who is a doctor and together we went into the medical marijuana certification business.
Q – What three pieces of advice would you give to budding entrepreneurs?
David Koyle:
Be innovative and research your business well.
Keep your overhead low, avoid debt, stay performance based with your employees.
Stay up with new technologies to keep costs down.
Be flexible with your business model, reinvent yourself and move quickly when you see the opportunity to capture the market.
Q – What would you say are the top three skills needed to be a successful entrepreneur?
David Koyle:
Innovation, persistence and the ability to move quickly when the opportunity presents itself.
Q – How many hours do you work a day on average?
David Koyle:
8-10
Q – To what do you most attribute your success?
David Koyle:
Creative innovation and persistence.
Q – How do you go about marketing your business? What has been your most successful form of marketing?
David Koyle:
Direct marketing, targeted clients, digital media are the forms that payoff best to reach our customers. often 'Guerilla' marketing leveraging editorial content.
Q – Where did your organizations funding/capital come from and how did you go about getting it? How did you obtain investors for your venture?
David Koyle:
I've used private placement memorandums to raise money with private investors. In several instances I've leveraged tax assisted incentives to cover investors risk. for the start-up of Omni. I financed the company myself along with my Dr partner. We were small in the beginning and our cash flow funded our start up. Over the years our cash flow has allowed for Omni to expand to other states.
Q – What is the best way to achieve long-term success?
David Koyle:
Customer service is first to create positive word of mouth. Reviewing and modifying the business model to insure optimization on all levels is high on my list. Hiring managers and staff who are competent and passionate about my business insures the company will carry on when I retire.
Q – Where you see yourself and your business in 5 – 10 years?
David Koyle:
I plan to retire and sell the business in 5-10 years, remain on the board to advise and mentor future CEO and executives.
Q – Excluding yours, what company or business do you admire the most?
David Koyle:
I like companies in the financial sector that are innovative and forward thinking.
One example is Ally Bank that spun off after general motors sold its financing arm (GMAC) in the midst of the great recession. GMAC reorganized as an online bank with no bricks and motor locations and reinvented itself by adding a brokerage arm and becoming involved in local redevelopment thus doing well by doing good. ally is now the 25th largest bank in the us with 9 million customers. A classic example of reinventing itself in a turbulent time and driving new business by seeking young customers.
Q – How important have good employees been to your success?
David Koyle:
Good employees are key to a company's success. Value their input, provide managers with autonomy in making decisions and reward all employees when times are good with profit sharing. Keep the criteria high for hiring staff.
Q – How long do you stick with an idea before giving up?
David Koyle:
I try to build a feasible business plan with reasonable milestones and give the plan a minimum of one year before review. If the plan is not hitting the goals, I'll revert to tweaking the business model with close review of marketing performance. During the next three business quarters I follow our progress closely noting trends in the business. If the business is not profitable or just marginal after 2 years I'll look to sell or dissolve the company.
Q – What motivates you?
David Koyle:
Doing well by doing good. helping people by giving them hope whether in the media or in the health care enterprise.
Q – What are your ideals?
David Koyle:
To be the best that I can be and leave our society and world a better place for future generations.
Q – How do you generate new ideas?
David Koyle:
I'm a creative person and let my mind think about how to improve existing businesses or I try to meditate daily and let my inner muse communicate with me. Keep your mind uncluttered with too many thoughts but listen to your inner spirit and it will lead you. Avoid the suggestions of advertising, think independently.
Q – How do you define success?
David Koyle:
To me success is having and enjoying a loving healthy family, and being in a business that you are passionate about. I like being an entrepreneur and working for myself. Work is love realized.
Q – How do you build a successful customer base?
David Koyle:
Outstanding customer service, creating positive word of mouth.
Q – What is your favorite aspect of being an entrepreneur?
David Koyle:
Setting your own standards of excellence, the independence and responsibility of doing the best you can. Staying engaged and competitive keeps you young at heart.
Q – What has been your most satisfying moment in business?
David Koyle:
Successfully commercializing several new technologies that aids in reducing greenhouse gases and improves our quality of life.
Q – What do you feel is the major difference between entrepreneurs and those who work for someone else?
David Koyle:
The ability to examine and modify and move at warp speed in running your business and not be encumbered by boards, bureaucracy and committees to make decisions. (i.e Eastman Kodak was a great brand for 100 years, but they languished in their ivory towers and failed to see what was happening on the streets). Today they are bankrupt for failing to reinvent themselves in the imaging world.
Q – What kind of culture exists in your organization? How did you establish this tone and why did you institute this particular type of culture?
David Koyle:
I encourage staff to participate and give input as they are in the front lines of customer service. I try to mold consensus with staff but ultimately the decisions are mine. I avoid being rigid boss and try to foster an atmosphere of teamwork.
Q – In one word, characterize your life as an entrepreneur.
David Koyle:
Creatively and financially satisfying.
Q – How has being an entrepreneur affected your family life?
David Koyle:
I've maintained a home office and try to spend time with my family, but when I travel I'm away for a week or two in many instances (Europe, Asia business)
My family life has benefited by putting my family first and foregoing offers to run large companies with large salaries and stock options. corporate culture with fortune 500 companies demands extraordinary devotion to the parent company at the expenses of your family in my experience.
Q – What is your greatest fear, and how do you manage fear?
David Koyle:
Fear of the company failing and the 25 physicians and 20 employees losing their jobs is something I fear. I face that fear and think about my b plan if that happens. I let that worry go after dealing with it. Life will go on.
Q – How did you decide on the location for your business?
David Koyle:
Conditions were right and I can operate the business via managers in the five states we're in. Strong management eliminates the need to be in major cities with expenses
Q – Do you believe there is some sort of pattern or formula to becoming a successful entrepreneur?
David Koyle:
Yes
Q – If you could talk to one person from history, who would it be and why?
David Koyle:
Ben Franklin. Colorful Inventor, Politician, Founder, Entrepreneur and Humorist
Q – Who has been your greatest inspiration?
David Koyle:
Gandhi
Q – What book has inspired you the most? (OR what is your favorite book?)
David Koyle:
The Little Book Of Zen
Q – What are some of the biggest mistakes you've made?
David Koyle:
I made a move to Hollywood in the 70s' and left my network of friends and business contacts in Canada. I gave up everything as an immigrant from Canada to start again after building a successful media career in Toronto in the 70's. After I moved the media business boomed in Canada and Hollywood had many barriers to entry.
Q – How can you prevent mistakes or do damage control?
David Koyle:
Take care of the details, be ready if the unexpected happens. Anticipate things will go wrong or change sooner than later. Be prepared to manage change every day.
Q – What are your hobbies? What do you do in your non-work time?
David Koyle:
I enjoy travel, exercise, yoga, gardening
Q – What makes you happy?
David Koyle:
Enjoying family times and grandkids
Q – What sacrifices have you had to make to be a successful entrepreneur?
David Koyle:
When working with Kodak and other large companies I was a road warrior and traveled extensively to Europe and Asia. I missed the first 12 years of celebrating my daughter's birthdays due to being in Cannes working for two weeks at the film festival. I chose not to continue work as a senior executive for large fortune 50 companies and earning large compensation packages in spite of qualifications and offers in order to chose my own pathway in business. I have no regrets since I have a loving healthy family.
Q – If you were conducting this interview, what question would you ask?
David Koyle:
Thinking strategically, with the current practice of corporate greed in terms of short term stocks and bonuses. What is the long-term solution for addressing the problem of US global leadership in business?
_____________________________________________________________________________________
About Omni Medical Services, LLC: Omni Medical Services has been in business for six years and provides certified physicians to evaluate patients who qualify for medical cannabis. We are Doctor owned and operated and have extensive experience in the medical marijuana field of research and helping over 30,000 patients receive their medical marijuana cards in Michigan. Our solutions are customized medical staffing services focused on the specific needs of patients seeking discreet evaluations. Our goal is to be the standard of care for our patients and we maintain an active role in the management of medical staff provided to our clients. Our licensed doctors, caregivers and administrative assistants are hand-picked and often matched with the unique environment and character of our client's business location when feasible. Let the experts at Omni Services guide you through the medical marijuana process quickly and professionally.
Website: http://420omni.com/
Company: Omni Medical Services LLC
Address: 1023 S. Cass Lake Road Waterford MI 48328
Telephone number: (888) 470-0008
https://www.facebook.com/omnimedicalservices