Q: Kindly give our readers an introduction to your business. Please include what your business is all about, in which city you are located and if you have offices in multiple locations/ cities.
Ans: The concept for All Glass is restoration, repair, and revitalization through glass. Within the home, we can upgrade a bathroom with a custom glass shower, protect existing furniture with custom cut glass, repair broken or drafty windows, and outfit cabinets with custom glass. If glass is involved, we can do it! For your car, we service cracked windshields as well. Our business is centered on fixing only what is broken so we can save you money. Also we love showing customers the beautiful upgrades possible utilizing glass. We are conveniently located to serve Fayette, Coweta, and Heard counties easily. As a Coweta county native, I am committed to serving and improving my county through quality glass work.
Q: Kindly give us a brief description about yourself (it should include your brief educational or entrepreneurial background and list some of your major achievements).
Ans: At only 23 years old, I have already gained a great deal of experience and education. As a 16 year old high school student, I learned the art of glass workmanship and I have continuously built upon that foundation ever since. After graduating from Newnan High School, I continued my education at West Georgia. My field of study was Electrical Engineering. My engineering background has only made me more meticulous in my glass work.
Q: What inspired you to (start a new business venture) or (to make significant changes in an existing business)? How did the idea for your business come about?
Ans: The concept of All Glass came together as a result of meeting with my right hand man, Phillip Keenan. Both of us had the same desire to provide better opportunities for our growing families. Since glass usage is widespread, we both felt that our business would fulfill a need within our community easily. Since the founding of our company, I have been pleased to see how our glass business has succeeded.
Q: What three pieces of advice would you give to budding entrepreneurs?
Ans: Start young! Experience is vital for continued improvement as well as attaining a client base. As soon as you can, start learning everything you can about the business you intend to start. Don't be afraid to take the risk! Leaving a salaried position or turning down a secure position to be your own boss is a risk for sure. Great reward often requires risk. The freedom to follow your passion is worth taking the chance. Surround yourself with trustworthy individuals! Whether you have a partner in your venture or a whole team, having people who will be honest with you and invested in your success is vital. Sometimes you will need the hard truth to really refine you or your business, so make sure you have people who will speak the truth in kindness.
Q: What would you say are the top three skills needed to be a successful entrepreneur?
Ans: Honestly, I believe it only requires the combination of two essential skills: communication and persistence. First off, effective communication is necessary in the everyday operation of your business, but also in all of your dealings with customers. Even accessing your client base at all is impossible without good communication. Additionally, persistence is needed. Since the business is being constructed from the ground up, there will be many times when the process will be discouraging. Even after the business is founded, getting established and becoming profitable takes persistence. Being a successful entrepreneur is rooted in being relentlessly driven. Regardless of the obstacles, the desire to succeed has to always be central.
Q: To what do you most attribute your success?
Ans: My success can easily be tied to my consistent follow through and honesty. When a customer hires All Glass, we provide an estimate and time table. We stand by our word and complete the work as planned. Customers love consistency and we are committed to continuously meeting the expectations of our clients. Honesty is vital to a successful business. Always, we are straightforward in our dealings with customers.
Q: How do you go about marketing your business? What has been your most successful form of marketing?
Ans: We recently hired Harbin Designs to manage the marketing aspect of our company. Through Harbin Designs, we are expecting significant gains especially in our online traffic.
Q: What is the best way to achieve long-term success?
Ans: Since life is not a sprint, remaining stable throughout the ups and downs of life is key to success in the long term. Your business will have some extremely profitable days and some difficult days. Through it all, remaining hopeful, dedicated, and steady will ensure the longevity of your business. In the midst of the good or bad days, having strong relationships around you will greatly aid your success. The encouragement and support of others can be the reassurance needed to keep going on the discouraging days.
Q: Where you see yourself and your business in 5 – 10 years?
Ans: In the next 5-10 years, I expect significant growth and progress for All Glass. Since we are constantly looking for ways to learn and improve, I believe we will be all the more successful. In the future, I hope to have several more teams of glass professionals, so we can serve our community even more effectively. Regardless of how the size of our company may expand, we want to always maintain our small and local feel, which promises quality and care.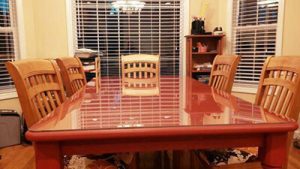 Q: Excluding yours, what company or business do you admire the most?
Ans: Ferguson Heating and Air is an exceptional business I admire. For over 70 years, their family-owned business has served our community with exceptional customer care and superior work practices, while maintaining their integrity. Even though they have grown significantly since the founding of their company, their principles and vision have never been compromised.
Q: What motivates you?
Ans: I am deeply driven by the desire to improve the lives of my family, my staff, my clients, and my community. Through hard work and continual improvement, I am finding new ways to better serve my clients. When All Glass is serving our customers well, the staff and our families benefit. We founded this business to be a company which our community could rely upon. As the company continues to grow, I always stay grounded in my desire to make my family proud.
Q: What are your ideals?
Ans: My integrity is always at the forefront of my mind. How a business is conducted reflects directly on the leader. As I lead All Glass, I always encourage my team to give their best efforts and maintain their honesty. Every employee of my business reflects my leadership so I work intentionally with each team member. Integrity not only establishes a secure long term relationship with a customer, but I also believe it is the right way to run a business.
Q: How do you generate new ideas?
Ans: When I have a new idea for a design, I generally like to bounce my ideas off of Phillip. Having his honest feedback is helpful. It's important to have someone to talk through ideas or just to tell you if your idea sounds off. Some of our best ideas have come by collaborating together.
Q: How do you define success?
Ans: Success is defined by setting goals and how effectively you reach them. As an entrepreneur, self-motivation is absolutely vital for success. If you are not constantly striving for improvement and growth, your business will become stagnant. Success is being able to be proud of your efforts and know you reached your goals.
For more information visit us at http://www.allglasslocal.com/
Save
Save