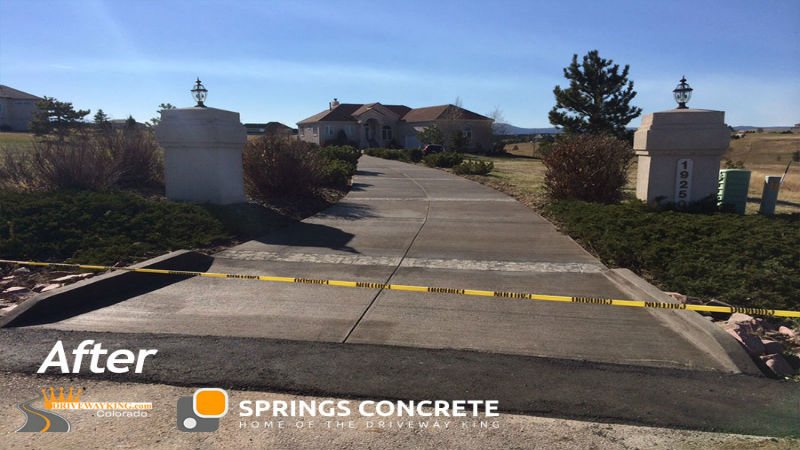 Q – Kindly give our readers an introduction to your business. Please include what your business is all about, in which city you are located and if you have offices in multiple locations/ cities.
Daniel Flansburg:
Well my company is Springs Concrete, LLC. "Home of the Driveway King"
I started SC in the summer of 2005 in Colorado Springs, Colorado. I am a local residential concrete driveway and patio builder specializing in our " Driveway King" process to build concrete driveways and our " Signature Stamped Patios" process to build our stamped concrete patios. Colorado Springs is a great place to own a business and raise a family. I have expanded our operation to Castle Rock, CO for the 2018 season.
Q – Kindly give us a brief description about yourself (it should include your brief educational or entrepreneurial background and list some of your major achievements).
Daniel Flansburg:
I started off in Colorado Springs in August of 2000. I came into town on a greyhound bus with only a backpack. I received a GED from Pikes Peak Community College. I started working in masonry construction shortly after arriving and got some good experience under my belt. My first job was laborer. So uniquely I have literally worked my way up from laborer to owner. This give me a distinct advantage for being able to see all the aspects and needs of a project as well as providing solutions for progress.
Q – What inspired you to (start a new business venture) or (to make significant changes in an existing business)? How did the idea for your business come about?
Daniel Flansburg:
I decided to look for a better way to make money after a trip to Phoenix, AZ in 2002. I was inspired by the success I saw in a big city. I knew that I could be successful in my small town with a ton of effort and luck. After putting out 100's of fliers I got my first job. I doubled my income that week and knew that this was the path I was going to take. More than a decade later I am so happy that I was able to go down this road.
Q – What three pieces of advice would you give to budding entrepreneurs?
Daniel Flansburg:
My biggest advice to young entrepreneurs
1. Find out what you are good at and something you like.
2. Start telling the world you do this for $ And exhaust your resources telling them.
3. Work very hard to learn how to be great at what you do.
Be ready to learn hard lessons. Be patient. Real success doesn't happen fast. Keep your senses alert. You have to be flexible and be willing to change directions if success demands it!
Q – What would you say are the top three skills needed to be a successful entrepreneur?
Daniel Flansburg:
Q – How many hours do you work a day on average?
Daniel Flansburg:
Now 8-10 hours 5 days a week, when I started 10-15 hours a day 7 days a week. I actually never stop thinking.
Q – To what do you most attribute your success?
Daniel Flansburg:
Being different. Finding the ways to show the community that I am different for all the right reasons. Google! Google gave me the chance to be heard where before Google this wasn't possible. The recession of 2008. As many of the solid big guys fell from glory, the little 21st century businesses were catapulted to success. We had no skin in the game and nothing to loose.
Q – How do you go about marketing your business? What has been your most successful form of marketing?
Daniel Flansburg:
Once again GOOGLE! Launching a SEO campaign in 2007 paved the way for success for my small business. Facebook and other SM outlets are doing well for us Today.
Q – Where did your organizations funding/capital come from and how did you go about getting it? How did you obtain investors for your venture?
Daniel Flansburg:
There were no investors. I did this by working hard and smart. Getting a loan is not good. Credit should only be used to obtain good pricing from vendors. I have never found success by borrowing, Only hardships! Be frugal. Look at how immigrant business men and women operate. Very efficient and simple. No flashy look at me. If it don't make dollars it don't make sense.
Q – What is the best way to achieve long-term success?
Daniel Flansburg:
In the same place I am now. Growth isn't always good. Find a comfortable place and hold on through ALL the waves.
Q – Excluding yours, what company or business do you admire the most?
Daniel Flansburg:
We all have our successes and battles. I admire anybody who decides to jump off the porch and is out making money doing something they love. I don't admire any large business.
_____________________________________________________________________________________
About Springs Concrete, LLC: Springs Concrete, LLC. Home of the Driveway King and Signature Stamped Patios is a leader for all of your concrete needs; big or small, residential or commercial. We are happy to serve Colorado Springs and other communities along the front range from Castle rock to Pueblo with the highest quality concrete, driveways, patios, sidewalks, and stamped concrete. We have the knowledge and the experience to handle the very demanding & unforgiving process of high-quality standard and our products, Signature stamped concrete, Driveway King concrete driveways, sidewalks and patios. We are a customer driven small business serving thousands of clients along the front range since 2006.
Website: http://www.springsconcrete.com/
Company: Springs Concrete, LLC
Address: 2115 Janitell Rd, Colorado Springs, Colorado, 80906
Telephone number: +1 719-963-3927
Facebook: https://www.facebook.com/Springs-Concrete-LLC-120787951328340/
Google+: https://plus.google.com/115828726123522488793
Yelp: https://www.yelp.com/biz/springs-concrete-colorado-springs-2