Armed with a spanning culture, raised by two outstanding artist who instilled in him the sense of uniqueness and a second generation architect and an interior designer with more than 30 years experience, Genco Berk is known for blending texture, line and composition when it comes to high end residential and commercial architecture and interior designing. Today Genco Berk is known for designing humidors that are absolutely "gold standard". Inspired by ancient Chinese coins, his designed humidors are limited to only 300 pieces worldwide. He is involved with interior design of High-End residential projects and designing and producing Cigar Humidors and lives and work in Vienna, Shanghai and Istanbul.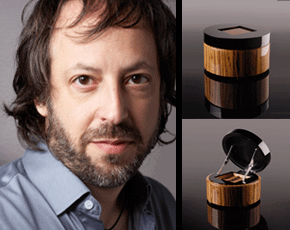 An absolute stunner in designs, Genco Berk takes out a sliver of precious time to give the Ebrandz team an exclusive interview on his inspiration, passion and profession.
Please tell us who is Genco Berk?
I am a second generation architect/ interior designer with more than 30 years experience. Growing up as child of two artists was of course a very special educational experience, which some one cannot get in school.
I spend my childhood in Germany, where my father worked as a free lance architect. He then continued his profession as an interior designer in Istanbul which gave me the chance to live in the culture of my origin. After studying architecture in the US and Turkey, I moved to Vienna and worked there as free lance designer for 14 years. Since 2004 I am executing projects mainly in China, Japan and Europe.
Q.What ignited the spark in you to (start a new business venture or (to make significant changes in an existing business)? How did the idea for your business come about?
A.I like smoking cigars, but was very disappointed with the cigar humidor's designs, which are available on the market. With very few exceptions there is nothing outstanding on the market. The cigar industry is a rather traditional world. I just felt the time had come for a new way of doing humidors.
Since I did not want to just create "Another" cigar humidor, I decided to use ancient Chinese coins for my humidor. They inspired me with what they stand for. Chinese coins have a square opening in the center. The coin itself symbolizes Earth and Heaven. Earth being square and the round shape of the coin being Heaven. For me smoking cigars, an earthy product is almost similar to having heavenly pleasure.
Most producers just change the veneer or color of their humidor. I consider this as just "Make-up" without any deeper idea behind it.
Q.If you had the chance to start your career over again, what would you do differently?

A.I would do most things the same way.
Q. What would you say are the top three skills needed to be a successful entrepreneur?
A. Creative. Think outside the box
Diligent
Trust your instincts
Q.What is the best way to achieve long-term success?
A.Being patient is the key virtue. It is also very important to listen and pay attention to your customer's feedback.
Q. How do you generate new ideas?

A. To answer this question, I need go a bit back in time. As I mentioned before, I was raised by two renowned artists. My father's (Abdurrahman Oztoprak) art pieces are nowadays auctioned at Sotheby's and Christie's. Visiting museums and art related events were always an important part of my life. At home we mostly talked about architecture, interior design and art. My parents gave me the skill to discriminate trends, to look at things carefully and from different angles. This keeps my mind open for new ideas. It is a skill which I instinctively use.
I do not like to use the word generate. It gives one the feeling it comes on a push of a button. This is not the case. The moment when I feel that I am ready for new idea, I am actually tapping my life long accumulated experiences. New ideas do not fall down from the sky.
Q.How many hours do you work a day on average?
A.My working days are usually about 10 hours. Whereby, I prefer not to call it work.

Q.What has been your most satisfying moment in business?
A. That was the moment when the leading luxury magazine Robb Report published my DeLight Cigar Humidor in their "Front Runners" section. This was followed a couple weeks later by another satisfying moment. It was when I received the order for a very famous celebrity from Hollywood.
Q.What is your favorite aspect of being an entrepreneur?
A. Depending on project phases, I am the initiator, decision maker and executer at the same time. This is quite challenging since one has to cope with different situations at any given moment.
I also like the fact that I am working at any time, when I feel like doing so. This usually includes late night and weekend working.
Q.In one word, characterize your life as an entrepreneur.
A.Restless
Q.How can you prevent mistakes or do damage control?
A.Experience combined with common sense is a good strategy in order to avoid most mistakes or do damage control.
Q.What makes you happy?
A.To create something. I guess that is something in my genes. The moment that something I have envisioned and planed becomes reality.
Q.What are your hobbies? What do you do in your non-work time?
A.I do not split my time in working hours and non-working hours or weekends. I am not a 9 -5 person. I consider anything that is related to my profession as a hobby.
Q.To what do you most attribute your success? What would say are the five key elements for starting and running a successful business?
1)Believe in yourself, especially in times when things are not going well.
2)Never give up.
3)Stay focused. Do not try to do many things at the same time and do not waste your time with things that are not your key competence.
4)Never be scared of failure. As Oscar Wilde once said "Experience is simply the name we give our mistakes" As entrepreneur you cannot be afraid of failure.
5)You need to be a self motivator.
Q.Excluding yours, what company or business do you admire the most?
A. I like the German company BRAUN for the design of their products. These were designed by Dieter Rams. I grew up in a household that had the famous BRAUN audio 400 Sound System. The cigarette lighter was also from BRAUN, so was the calculator we used. Many of their products made into the permanent collections of many museums. Unfortunately they are not producing any Hi-Fi components or calculators etc. anymore. Although they were merely products for everyday use, they had a soul.
These days, I like the designs by Porsche. To some extent I like also Apple products.