1) Kindly give our readers an introduction to your business. Please include what your business is all about, in which city you are located and if you have offices in multiple locations/ cities.

Clarus Dermatology opened its doors in 2013 to provide world-class, comprehensive dermatology care to patients in the Twin Cities metro area. We opened with one clinic, one physician (myself) and 5 staff members. As of spring 2023 we have 5 clinics, over 50 employees and a fantastic team of seven dermatology physician assistants joining me in providing care to patients of all ages. Our first clinic outside the metro area opened in 2022 in Spicer, MN to serve rural communities that lack timely access to high-quality dermatology care. We look forward to aggressively continuing to grow to bring our brand of world-class dermatology care to patients throughout the region.
2) Kindly give us a brief description about yourself (it should include your brief educational or entrepreneurial background and list some of your major achievements).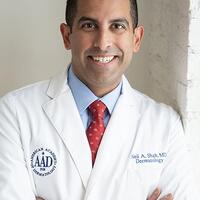 I was born and raised in a suburb of Chicago by Indian immigrant parents. From an early age I had an aptitude for, and interest in, science and medicine. I attended Ursinus College outside Philadelphia on a full-tuition scholarship for my undergraduate education, graduating Phi Beta Kappa with honors in biology. Thereafter I moved to Minnesota to attend the University of Minnesota Medical School. I graduated with Alpha Omega Alpha honors from the U of M in 2007. For residency education I was fortunate to match at my top choice, Mayo Clinic, in dermatology. After completing my residency at Mayo I started the dermatology department for a large multispecialty group in the Twin Cities. I left that position to found Clarus Dermatology in 2013.
3) What inspired you to (start a new business venture) or (to make significant changes in an existing business)? How did the idea for your business come about?
Having seen the limitations of care provided by large multispecialty groups, I realized that in order to always provide the highest quality care for my patients I would have to build an organization of my own. Clarus was founded to bring world-class care to all patients. As an organization we would operate efficiently, be agile and never make our patients wait for the care they needed. We would empower team members to always do what's best for the enterprise and our patients without layers of bureaucracy commonly found in healthcare organizations.
4) What three pieces of advice would you give to budding entrepreneurs?
You and your team will make mistakes. Learn from them, don't punish yourself, or your team, for making them.
"Industry best practice" is often the worst. Always ask yourself if there is a more optimal way (faster, cheaper, higher quality) to perform every key function of your business.
What works today will not work in the future. Your business should always be looking to evolve its processes, and perhaps even its mission, as the world changes around you.
5) What would you say are the top three skills needed to be a successful entrepreneur?
Fault tolerance – I was not good at this earlier in my career. As I've grown as a person and a business owner I have learned that you must tolerate faults in yourself and in others if you want to be successful.
Embrace the suck – Building a successful business is very hard – most fail. There will be very difficult times and very good times. Survive, and learn from, the former and enjoy the latter.
Rigidity is fatal – Assumptions can be broken by reality and the best laid plans usually fail. You may need to pivot hard in order to adapt. Always strive to maintain flexibility in your thinking.
6) How many hours do you work a day on average?
When I started Clarus I would see patients 8 hours a day and then work another 4 hours per day at home. I worked all weekend. I was the IT department, the chief coder, the physician and the handyman. Looking back, I think that some of this work was necessary, particularly at the time: embrace the suck. Founders have to get their hands dirty. However, as you grow you will be able to build teams to help you. Outsource tactical decision making so you can focus on strategic decision making. Build, or retain, strategic level partners to help you continue to grow. Now I still operate one day per week, but I have much more time to spend on figuring out how we continue to adapt, grow and thrive as an organization while having much more time to spend with my family.
7) To what do you most attribute your success?
From the start I focused on building future leadership from the employees who started Clarus with me. Over time we have retained these talented individuals helping them grow as leaders. As a result we have leaders who understand what life is like 'in the trenches,' have seen the mistakes and successes of the organization and have bought into our mission. This institutional knowledge is our greatest asset and our greatest strategic advantage.
8) How do you go about marketing your business? What has been your most successful form of marketing?
Word of mouth has been, and continues to be, our most successful form of marketing. We are proud to be the dermatology team that generations of families choose for their skin care needs.
9) Where did your organization's funding/capital come from and how did you go about getting it? How did you obtain investors for your venture?
My wife and I invested our life's savings into Clarus to get the organization off the ground. We have grown by reinvesting our profits instead of by taking on debt. While this may change in the future, it has served us well to this point.
10) Where do you see yourself and your business in 5 – 10 years?
The growth over the last 18 months has been pretty wild. We have doubled in terms of employees, providers and clinics in that time. In talking with other successful practice owners there is this inflection point, somewhere around 8-10 years, where the growth becomes parabolic if you've built a good organization. This is both good and a challenge. Maintaining quality and culture during rapid growth is hard. Leadership, myself included, will need to adapt as we continue to grow.
From a macro perspective, I think that healthcare faces many challenges over the next decade. Whereas healthcare looked relatively the same 10 years ago, I believe it will look wholly different 10 years from now. Those organizations that adapt the most optimally to the changes will thrive. Those that remain static will perish.
11) Excluding yours, what company or business do you admire the most?
There are companies that I admired when they did gutsy things as startups (Apple, McDonalds, Nike). But those same companies have become less admirable with time or even examples of what not to do (Apple, McDonalds, Nike). I have great admiration for companies like Chick-fil-a and Hobby Lobby that choose to have principles that they will not sacrifice.
12) How important have good employees been to your success?
Not all employees will be good, but you will have good employees. Finding, training, building and retaining the good ones is essential. "Mail room to C-suite" should be a real pipeline at your company. It is also equally important to terminate employees that are lazy, dishonest, pernicious or detrimental to your culture. Do not make the mistake of allowing these kinds of employees to hang around otherwise you will lose the good ones. Our long-term retention is high because we are picky up front.
13) How long do you stick with an idea before giving up?
If you are receiving data that indicates that the underlying assumptions behind an idea might be terminally flawed then you should seriously consider immediately abandoning the idea even if it is one that your team spent a lot of time/capital on. If your assumptions appear correct but you're just running into new problems to solve in implementation, and you're solving them, then stick with it.
14) What motivates you?
Motivations change over time. Initially, I was motivated to be the best physician I could be, operating in an organization that was well run. Over time I realized that there was such a need for high-quality medical care delivered by a well-run organization that I had to scale. A single physician doesn't scale. Now my motivation is to bring the best possible dermatology care to every community in this region.
15) What are your ideals?
Courage, honesty, excellence, generosity and love.
16) How do you generate new ideas?
I read very broadly. Most of the most interesting ideas that I have come across are from outside the scientific disciplines. While I have colleagues that are friends, I try to have more conversations with successful people outside of medicine. These are often the best sources of new, interesting ideas that could be adapted to serve my business.
17) How do you define success?
Living according to your ideals.
18) How do you build a successful customer base?
Do good work.
19) What is your favorite aspect of being an entrepreneur?
I love the challenge that every new phase of the business brings. It means that I get to grow as a person and learn new skills.
20) What has been your most satisfying moment in business?
There was a point early on when I stopped worrying about making payroll. That was pretty satisfying.
21) What do you feel is the major difference between entrepreneurs and those who work for someone else?
Risk tolerance. I'm willing to accept considerable risk in return for control over the organization. With this control I can ensure that we operate according to ideals that I believe will lead not only to success in business, but personal thriving for myself and my team.
22) What kind of culture exists in your organization? How did you establish this tone and why did you institute this particular type of culture?
I believe that our culture is one of a family bound together by hard work and excellence. The culture was created by modeling and rewarding behaviors that would build that culture. As we have grown each new hire quickly recognizes our culture and decides if it is a good fit for them. While maintaining this culture always requires work, we have a critical mass of team members now that are all dedicated to keeping Clarus healthy.
23) In one word, characterize your life as an entrepreneur.
Growth.
24) If you had the chance to start your career over again, what would you do differently?
The past made me and Clarus who and what we are presently. I wouldn't change anything because I'm not sure I'd end up in a better place. However, I would tell myself to relax a bit more. Problems will arise, mostly in unexpected fashion, and they will be overcome.
25) How has being an entrepreneur affected your family life?
Family was always extremely important to me. The flexibility that I enjoy now is a direct result of conscious choices that I made as the organization grew. I'm very grateful that I get to spend considerable time with my wife and children.
26) How did you decide on the location for your business?
We looked for a geographic location that needed a dermatology clinic, had close-by referring primary care clinics and had a suitable office location.
27) Do you believe there is some sort of pattern or formula to becoming a successful entrepreneur?
I think there are patterns to the people who become successful entrepreneurs. It is not for everybody. However, the best entrepreneurs seem to share humility, adaptability, restlessness and curiosity as traits.
28) If you could talk to one person from history, who would it be and why?
George Washington. He had a victorious army at his back and a public clamoring for a new king (having just thrown off the old king) and yet he handed back the sword and went back to his farm. What was it like to make that decision? What did he believe would come of his new republic? What would he say if he could see where we are now?
29) Who has been your greatest inspiration?
I have had many meaningful and important mentors – and I hope to have many more in the future. My parents, my physician mentors, my professors and other successful business owners have all been inspirations across different spaces and times. My wife and children inspire me to be a better person. My team inspires me to be a better boss.