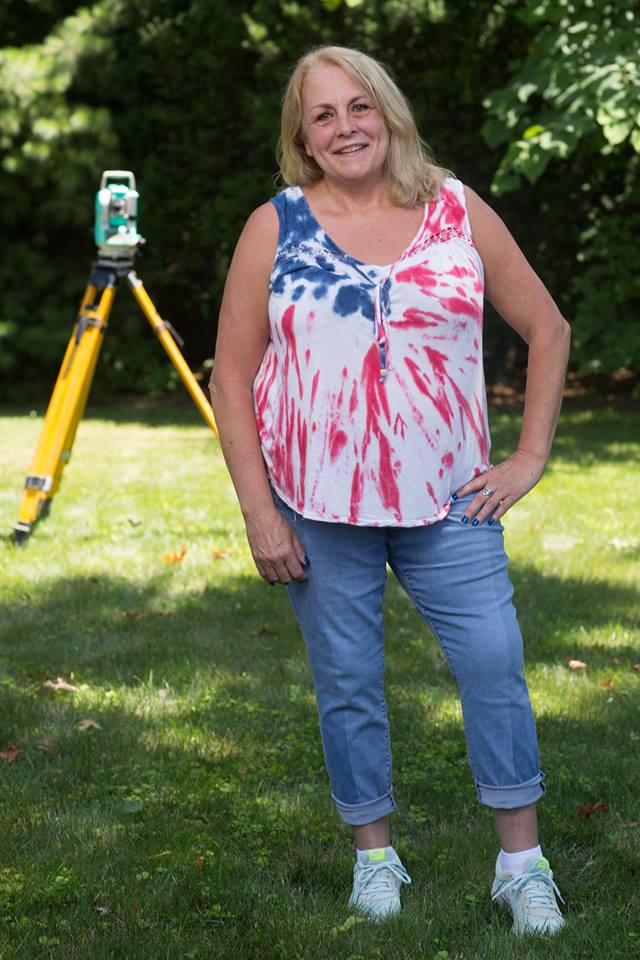 Q. Kindly give our readers an introduction to your business. Please include what your business is all about, in which city you are located and if you have offices in multiple locations/ cities.
Answer: I am a licensed land surveyor. My company surveys land to find out exactly where a person's land, structures and items lay on earth. We survey vacant land, homes, and businesses. We also do subdivisions of land and layout where lots can be built.
Q. Kindly give us a brief description about yourself (it should include your brief educational or entrepreneurial background and list some of your major achievements).
Answer: I have been a land surveyor for over 35 years. Having worked for my step father's company previously, I had enough knowledge and skill to start my own company. Since starting Lisa McQuilkin Land Surveying, I have had the privilege to work with thousands of people in the Long Island community. Additionally we have worked on incredible LI projects including Suffolk Schools and The Calverton Cemetery.
Q. What inspired you to (start a new business venture) or (to make significant changes in an existing business)? How did the idea for your business come about?
Answer: I started working in surveying in 1983 with my stepfather Donald Malm. I worked under his guidance for many years. I then began training to acquire my license. I went to night school while working full time and raising my children. I finally passed the exam in 1996. After Donald decided to retire, I started my own company, Lisa McQuilkin Land Surveying.
Q. What three pieces of advice would you give to budding entrepreneurs?
Answer:
Good things happening in your life don't just happen- it takes a lot of work. Be prepared!
Network with those around you and build meaningful relationships.
Always under promise and overdeliver. Go beyond client expectations.
Q. What would you say are the top three skills needed to be a successful entrepreneur?
Answer: I think hard work, accountability and stamina are a good start.
Q. How many hours do you work a day on average?
Answer: In the beginning, I worked 7 days a week and often 10-12 hour days. When I was not working, I was raising children and it was not easy. Today, I am able to work a reasonable schedule of 5 days a week and 8-9 hours a day.
Q. To what do you most attribute your success?
Answer: I have a fantastic staff that is passionate about surveying. Additionally, I work with a great marketing company, have terrific networking connections and have a long list of happy clients that make my job a truly rewarding experience.
Q. How do you go about marketing your business? What has been your most successful form of marketing?
Answer: We work with an incredible marketing agency, Disrupt Ordinary Marketing. They take care of all of our website, social media and email marketing needs and they do a great job.
Q. Where did your organizations funding/capital come from and how did you go about getting it? How did you obtain investors for your venture?
Answer: In the beginning, I started with used equipment and drew from my personal funds until I was able to grow my business.
Q. What is the best way to achieve long-term success?
Answer: You just have to keep plugging and always listen to people who have new or even old ideas. You never know what you can learn.
Q. Where you see yourself and your business in 5 – 10 years?
Answer: I see myself getting set-up for a partial retirement!
Q. Excluding yours, what company or business do you admire the most?
Answer: I have real respect for my dear friend, Michelle Wagner. She started her own architectural firm with a baby and made me realize it was possible to be a successful woman entrepreneur.
Q. How important have good employees been to your success?
Answer: They have been imperative to my success. To quote my step father, "You are only as good as your worst employee".
Q. How long do you stick with an idea before giving up?
Answer: As long as it is a viable idea and continues momentum.
Q. What motivates you?
Answer: I love to help people get their plans in motion or get past a problem.
Q. What are your ideals?
Answer: I consider a great project coming to fruition without too many issues.
Q. How do you generate new ideas?
Answer: I have a lot of people in my circle and listen to any/all suggestions to better production.
Q. How do you define success?
Answer: I consider myself a success. I have wonderful people in my corner and respect from many.
Q. How do you build a successful customer base?
Answer: I have done years of service and continue to continuously get community referrals.
Q. What is your favorite aspect of being an entrepreneur?
Answer: Being able to make my own decisions and make hours available when my family needs me.
Q. What do you feel is the major difference between entrepreneurs and those who work for someone else?
Answer: Entrepreneurs have a lot of responsibility that employees don't. They have to deal with payroll, insurance and many other aspects of the business.
Q. What kind of culture exists in your organization? How did you establish this tone and why did you institute this particular type of culture?
Answer: We have a laid back type of feel here. I believe people do not associate well with intense, uptight deals. We work hard, but have fun throughout our workday as well.
Q. In one word, characterize your life as an entrepreneur.
Answer: Wonderful
Q. How has being an entrepreneur affected your family life?
Answer: I was hard but I was able to split my time when necessary. I think my children are all successful and this is mostly why.
Q. What is your greatest fear, and how do you manage fear?
Answer: I fear letting down my employees or my clients. I work diligently and with care to ensure this does not happen.
Q. Do you believe there is some sort of pattern or formula to becoming a successful entrepreneur?
Answer: Yes- hard work. Work with others in mind.
Q. If you could talk to one person from history, who would it be and why?
Answer: George Washinton. He surveyed with a very limited set of tools.
Q. Who has been your greatest inspiration?
Answer: My step father Donald Malm. He taught me to survey ever since I can remember.
Q. How can you prevent mistakes or do damage control?
Answer: Check, check and recheck everyone's work.
Q. What are your hobbies? What do you do in your non-work time?
Answer: I love to garden and spend time with my family and friends.
Q. What makes you happy?
Answer: A beautiful day with my family.
Q. What sacrifices have you had to make to be a successful entrepreneur?
Answer: Limited time with my kids when they were young.
Q. If you were conducting this interview, what question would you ask?
Answer: Why did you become a surveyor? Because I love the puzzles we solve!
About Lisa McQuilkin Land Surveying: At Lisa McQuilkin Land Surveying, we take pride in ensuring that our customer experience is pleasant, simple and efficient. For more than 20 years, we have been providing quality Land Surveying Services to clients in Suffolk Country, Nassau County & Fire Island. We have consistently provided our clients with courteous, timely, and professional services. With a passion for hard work and customer service, our team of experts is at the heart of what we do.
Company Name: Lisa McQuilkin Land Surveying
Address: 274 E. Main Street
City: East Islip
State: New York
Country: United States
Zip Code: 11730
Telephone No.: (+1) 631-277-3605
Website URL: https://www.longislandsurveyor.com/